---
It is no exaggeration to say that E*TRADE FINANCIAL would not exist without the brilliance and dedication of Bill Porter. As its co-founder, first Chairman and now Chairman Emeritus, Bill exemplifies the innovative thinking and willingness to challenge the status quo that sets the firm apart from traditional financial companies.
Bill is one of those rare individuals with both the vision to imagine an entirely new way to do business and the ingenuity to bring that vision to life. By 1982, Bill had already launched Trade Plus, an electronic service bureau for stockbrokers that processed the world's first online trade. When the World Wide Web blossomed in the 1990's, he saw the opportunity to apply the expertise he had gained in electronic exchanges to make online trading directly available to individuals as well. The result was E*TRADE — empowering retail investors and revolutionizing the brokerage industry.
Not only did Bill's technological and business expertise help build a thriving enterprise, but his personality helped to shape the unique culture which would become E*TRADE FINANCIAL. The open and frank communication that is so much a part of the Company is very much a reflection of his personality — he has always called it as he sees it, and encouraged honesty in others. He is a person of principle who has generated enormous admiration and loyalty among his colleagues.
Today, Bill continues to offer strategic guidance and lead by example with his positive energy and vision. Yet what is perhaps most remarkable about him is that E*TRADE FINANCIAL is only one of his many triumphs as an inventor and entrepreneur.
For example, Bill devised the first color low-light-level broadcast television camera and first infrared horizon sensor for satellite stabilization, along with over 20 other products and 14 patents. In 2000, he launched a new venture, the International Securities Exchange, the nation's first entirely electronic options market. He is also an active contributor to the MIT Sloan School of Management, which he attended as a Sloan Fellow in 1967, making possible the construction of the William A. Porter Management Center and supporting other important programs.
For someone who has accomplished so much, Bill is remarkably humble, focused on finding the next solution rather than looking back at past achievements. Nevertheless, E*TRADE FINANCIAL's customers, employees, and shareholders are united in gratitude for what he has accomplished and in anticipation of the good things still to come from this unique and remarkable man.
---

1952
Earns MA in physics from Kansas State University
1967
Earns MA in business as a Sloan Fellow at MIT Sloan School of Management
1982
Launches Trade Plus, electronic service bureau for stockbrokers
1983
World's first online trade executed through Trade Plus
1996
Trade Plus renamed E-Trade Group, launches www.etrade.com and goes public
1996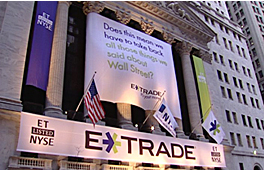 Establishes professorship in entrepreneurship at MIT's Sloan School
1999
Makes $25 million gift to Sloan School to construct William A. Porter Management Center
2000
Launches International Securities Exchange, nation's first entirely electronic options market